FROM THE BEGINNING,
WE'VE BEEN THE STANDARD OF ACCURACY.
We design, manufacture, and supply the highest-quality pressure gauges, thermometers, and accessories. Our measuring devices are trusted by process industries around the globe for their accuracy and reliability.
Our products are used in countless applications where accuracy, dependability, and adaptability to application environments are essential. Whether standard or specially designed, Marsh provides rugged, precision instruments for customers around the world.
PERFORMANCE DRIVEN BY TECHNOLOGY
The finest pressue and temperature instruments designed specifically for: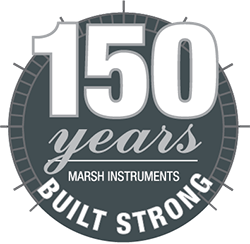 We still build them like we used to, because we always did it right. Having the highest standards makes it easy to grow strong for generations!
GAUGES DESIGNED SPECIFICALLY FOR: